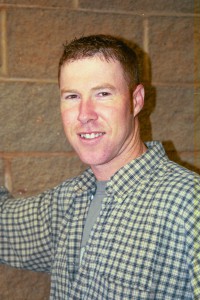 A native Australian with a typical horse family upbringing, he was Pony Club President and built the first cross country course at Morgan Park in his hometown of Warwick, Queensland Australia that has now become the premier cross country park in Australia. At fifteen, he went to work in the outback riding and shoeing horses on large cattle stations. There he discovered he should make a living shoeing horses.
In 1989 he ventured to the United States to attend a formal horseshoeing program and graduated with a Horseshoeing Instructors Certificate.
In 1993 he became attending Farrier at Kansas State University where for six years he worked extensively with hospitalized therapeutic cases as well as maintained a remedial horseshoeing business.
1n 1997 he competed in England and qualified for the royal show. Upon returning to the USA, he moved to California where he primarily shod jumpers and dressage horses.
As a member of the American Farriers Team in 2000, competed extensively through out the US, Canada and England.
In 2002 he and his wife, an Equine Veterinarian, opened an Equine Veterinary and Farrier Hospital in Upstate New York. The primary focus of the hospital is lameness diagnostics and therapeutic treatments. Dallas sees therapeutic cases in the hospital as well as travels to private stables to shoe horses. You can visit their website at www.MorganEquine.com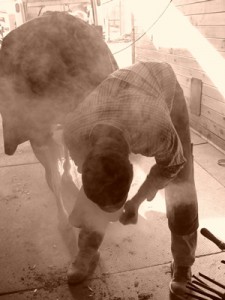 Each winter at the hospital, Dallas hosts educational sessions that focus on shoemaking for horseshoeing and competition and tool making and maintenance. He is again on the road as judge and clinician, as a Mustad sponsored clinician.
His most recent competition win was World Championship Blacksmith (WCB) Overall High Point and Open Division Winner at Flagstaff AZ in June 2008.
Morgan Equine Veterinary & Farrier Hospital
Jessica Morgan DVM Dallas W. Morgan CJF, DipWCF
169 Tucker Hill Road Locke NY 13092
Phone Numbers
Office 607-898-9777 Fax 607-898-5733
Jessica Morgan Cell: 607-592-2573
Dallas Morgan Cell: 607-592-4220
farrier@morganequine.com
vet@morganequine.com