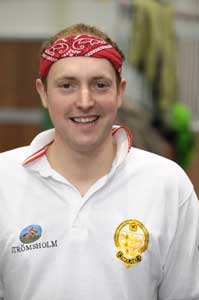 Steven Beane AWCF has been shoeing horses for 11 years and currently has a busy practice in North Yorkshire.
He is an associate of the Worshipful Company of Farriers and does clinics and judges both at home and abroad. He is a keen competitor participating in competitions worldwide.
Steven has been a member of the English horseshoeing team for six years and been on the winning team 4 times at Stoneleigh. He has competed at the AFA annual convention 4 times and Calgary 5 times.
A few of his proudest achievements are:
2001 – present Yorkshire Champion
2005 and 2006 – Reserve World Champion
2005 – World Forging Champion
2006 and 2007 Reserve World Forging Champion
2006 and 2007 High Point Shoe at Calgary
2006 Best Shod Foot at Calgary
2006 and 2008 European Champion
2008 Royal Show Champion
2009 2011 World Forging Champion
2009, 2010 World Shoeing Champion
2009, 2010, 2011 World Champion Blacksmith
He is in constant demand world wide to provide clinics and demonstrations.
Contact Steven on 07803176698.